Planning a daytime date in/around Baton Rouge and stuck finding things to do? I've got you covered! Here are over 25 ideas for you:
Spend the Day Downtown:
Head downtown for dozens of restaurant, bar, and live music options (see maps below) in addition to many fun museums! Helpful tip: On the first Sunday of the month many of the museums downtown are free – there are several to choose from and all within walking distance.
Downtown Restaurants
My personal favorites are Tsunami, The Gregory (inside The Watermark hotel), Cocha, Poor Boy Lloyd's, and The Vintage!
Downtown Bars
A few of my favorites include Happy's (used to work there and their patio is nice!), Bengal Tap Room (great for tasty bar food), and Squeaky Pete's (great for LSU games).
And for live music options (downtown and elsewhere) check out redstickmusic.com for daily music lists!
Old State Capitol Building
Louisiana's Old State Capitol is not only stunning to see (the staircase + stained glass ceiling), it's also packed with rotating exhibits focusing on state history, politics, and art. Located up the hill right across from the Louisiana Art & Science Museum, this unique building is hard to miss and fun to explore.
"New" State Capitol Building
Take a guided tour (call for scheduling) of the current State Capitol building and be sure to ride up to the observation deck to get an amazing view of downtown Baton Rouge! You can also take a stroll through Arsenal Park and Old Arsenal Museum on the grounds of the Capitol. The museum allows you to view exhibits on military history and the history of the Capitol grounds as well as the Battle of Baton Rouge.
USS Kidd
Another kid-friendly stop – nicknamed the "Pirate of the Pacific," the USS Kidd is a Fletcher-class destroyer that now serves as a memorial honoring the men and women of the U.S. armed forces. And the best part? Along with several other museums in the area, it's free to visit on the first Sunday of each month.
The ship was named after a man who was killed aboard the USS Arizona during the Pearl Harbor attacks on Dec. 7, 1941, Rear Admiral Isaac Campbell Kidd Sr. The Kidd launched in 1943 and is restored to mimic its 1945 configuration. For half of the year, the ship rests on the Mississippi River, and for the other half, it sits in a dry-docked cradle so visitors can get a view of its full dimensions.
Louisiana Art & Science Museum
Science museums are always a wise family friendly option, and the Louisiana Art & Science Museum is no exception. The museum has three fascinating permanent exhibits — Ancient Egypt, Planet Tower and Universe Gallery — as well as a lengthy list of rotating exhibitions. The museum's planetarium shows are a nice way to keep the kids, and yourselves, entertained.
One of the most exciting attractions at the museum is its Solar System Gallery, which is now home to a triceratops skull that's 65 million years old and weighs 1500 pounds. There are also space images from the Hubble telescope, a large overhead solar system model and two interactive, hands-on stations.
LSU MOA
Also located in the Shaw Center for the Arts, the LSU Museum of Art has more than 6500 art objects on hand, including an impressive collection of Chinese jade, sculptures, drawings and photography. Later this year, the museum will welcome an exhibit called "Reflections," a look at African-American life from the collection of designer Myrna Colley-Lee.
In recent years, traveling collections that have visited the LSU Museum of Art include the work of American artist Elliott Daingerfield, Japanese scientist and artist Iwasaki Tsuneo, pop artist Hunt Slonem, Haitian art from Perry Smith and the New Orleans Museum of Art and cocktail drawing from famed Mississippi illustrator and artist Olive Leonhardt.
Capital Park Museum
There's no shortage of museums in Baton Rouge, but one of the best is the Capitol Park Museum, which looks at the history of Louisiana back to the days of Native Americans. The museum's two permanent exhibits, Nation and Experiencing Louisiana: Discovering the Soul of America, and Grounds for Greatness: Louisiana, are worth the price of admission alone.
Much of the history you'll see at the museum is visual. There's a 48-foot shrimp trawler made of wood, as well as an exceedingly rare submarine from the Civil War era. Capitol Park Museum is also home to a set of trophy antlers won in the Great Steamboat Race of 1870 by none other than Robert E. Lee.
Red Stick Farmers Market
If you're downtown on a Saturday, support local farmers and give back to the Baton Rouge community by visiting the Red Stick Farmers Market. It's an open-air market where local farmers, producers, and makers sell fresh fruits, veggies, seasonal foods, baked goods, fresh meat and dairy, plants, and misc. items like soap and art. You can grab breakfast, taste samples, purchase food or walk around to see new things.
Walk/Bike the Levee
The levee is the perfect spot to see our gorgeous sunset views over the Mississippi River. Plus, with the new Gotcha Bikes located throughout the downtown area, taking a relaxing bike ride down the levee has never been easier. And for all my fellow road biking friends, it's also now paved all the way to L'Auberge – round-trip from downtown is about 25 miles.
Spend the Day in Mid City:
Mid City Bars + Restaurants:
Mid City is packed with so many amazing restaurants, but my personal favorites include Mid City Beer Garden, City Roots (for coffee), Jed's Poboys, Curbside Burgers, and Rocca Pizzeria.
Other Things to Do in Mid City:
Go shopping at Pink Elephant Antiques, Circa 1857, The Hope Shop, Mid City Mercantile, or catch the Mid City Markers Market that happens once a month!
Spend the Day Outdoors:
Walls Project Murals
Want to check out public art? Hop in your car and tour around town to see all of the Walls Project murals. Many are in the Downtown or Mid City areas, so be sure to check out those sections above for more information.
LSU Ag Center Botanic Gardens + Burden Museum
Situated on 440 acres in the heart of Baton Rouge, it has plenty of gardens and walking trails to explore – you'll easily spend most of the day here! The Burden Museum & Gardens includes the LSU Rural Life Museum, the LSU AgCenter Botanic Gardens and Windrush Gardens.
The LSU AgCenter Botanic Gardens is an expansive collection of specialty gardens, woodlands, wetlands and arboreta. Trees and Trails offers five miles of serene walking paths through the Burden Woods. The Rose Garden, Children's Garden and All-America Selections Display Garden showcase the beauty of plants and flowers and provide educational experiences for gardeners of all ages.
The LSU Rural Life Museum was named one of the "Top 10 Outdoor Museums in the World" by the British Museum, and transports you back to 19th century Louisiana. The museum offers an immense collection of artifacts from farms, plantations and households. The open-air museum has a five-star rating from AAA and features more than 30 unique, historic buildings.
Main Library on Goodwood + BREC's Botanical Gardens in Independence Park
With over a mile and a half of walking trails this is the perfect place to observe the nature in the city. Located within Independence Park, you can find the Rose Garden, Crape Myrtle Garden, Sensory Garden, Camellia Garden, Butterfly Garden, Louisiana Iris Garden and the Daylily Garden.
Visit Magnolia Mound Plantation
BREC's Magnolia Mound is a rare survivor of the vernacular architecture influenced by early settlers from France and the West Indies. This venerable landmark is unique in southern Louisiana not simply because of its age, quality of restoration, or outstanding collections, but because it is still a vital part of the community.
Visit the Baton Rouge Zoo
Over the past 51 years, the Baton Rouge Zoo has grown to become the #1 year-round family attraction in Baton Rouge. It is also very active in conservation programs and fully participates with other zoos around the world in nearly 30 international Species Survival Plans (SSP) for critically endangered species. Plus it's fun to walk around and spend the day!
Visit the Barn Hill Preserve
Barn Hill Preserve is home to over 50 species of animals including two-toed sloths, asian small-clawed otters, reticulated giraffes, and more! They even offer hands-on tours and experiences with many of their animals. Be sure to check their events calendar!
Walk around the Louisiana State University Hilltop Arboretum
Discover Hilltop Arboretum, where you can view 14 acres of trees, shrubs and flowers, especially in the springtime. Look over a ravine or adventure through the tree canopies. Located on Highland Road, you can check out their many events throughout the year.
Pro Tip – Plan a quick afternoon picnic! Stop by Bites & Boards, BLDG5, or grab takeout from another local restaurant ahead of time for a tasty lunch.
Walk around the Cohn Arboretum
The Laurens Henry Cohn, Sr. Memorial Plant Arboretum is a beautifully landscaped 16-acre tract of heavily wooded land used for the preservation and study of native plants and flora from other areas. It's the perfect place to relax and unwind. The Arboretum features more than 300 species of native and adaptable trees and shrubs, a fruit orchard, butterfly garden and bamboo collection.
Jog/walk/run/bike around the University Lake
Walk around LSU's University Lake, ride your bike or bring a picnic for the day. The distance around the lake is four miles, with the highest climb reaching 19 feet. You can pass the time by enjoying the views or spending the whole afternoon in a tranquil visit.
Visit any of the BREC Parks
Stroll around one of many BREC parks, which are across East Baton Rouge Parish. You can bring your children to play and explore among playgrounds and splash pads. Most areas have free Wi-Fi too – perfect if you have business to attend to.
Picnic at Greenwood Community Park
Spend your day at Greenwood Community Park, where you and the kids can run around the splash pads and play structures. The park, located in Baker, has an 18-acre lake for plenty of adventures.
Hike around the Blackwater Conservation Area
Blackwater Conservation Area opened in 2002 and is one of BREC's renowned conservation areas. The naturalized park offers two large fishing lakes, nature trails and pavilion with restrooms. The trees on the 57.48 acre site represent native species such as: Bald Cypress, Tupelo Gum, Cottonwood, River Birch, Red Mulberry, Persimmon, Pines and Oaks.
Go Kayaking
Have a kayak? Head over to BREC's Highland Road Community Park and near the baseball fields you'll find a kayak launch! Kayak a straight 10 miles or plan your lengthly trip using the extensive waterway map here.
Go Paddle Boarding
Rent a paddle board from Muddy Water Paddle Company and either head out on your own or check out their events around town.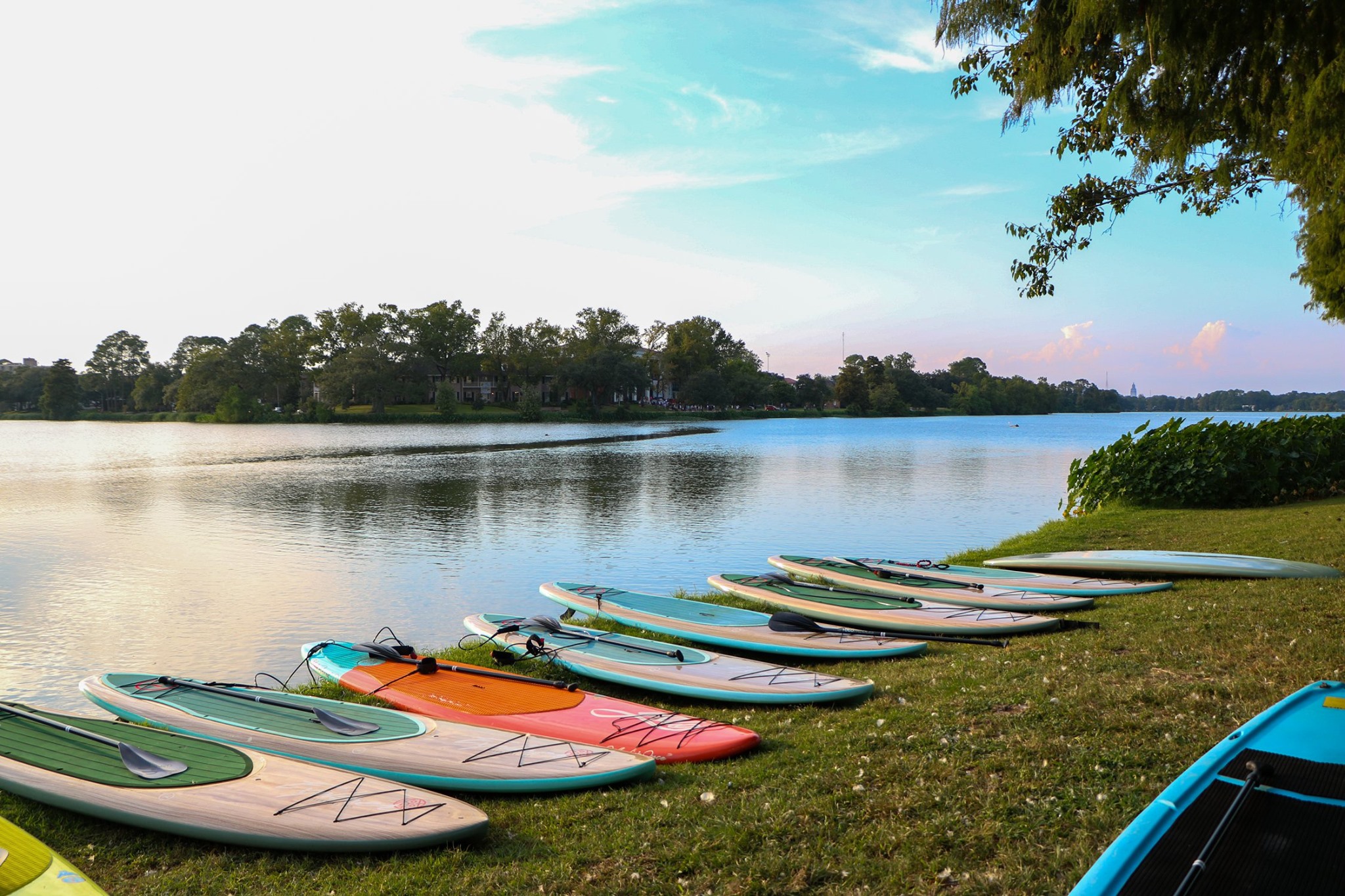 Check out the Bluebonnet Swamp Nature Center
The Bluebonnet Swamp Nature Center is a 103-acre facility with over a mile of gravel paths and boardwalks is dedicated to conservation, education, recreation and tourism.
Go on a trail ride in Farr Park
BREC's Farr Park Equestrian center is proud to offer guided trail rides on select Saturdays and Sundays. Enjoy a one-hour gentle ride through the park or in the indoor arena on one of the BREC horses.
Up for a drive?
Make your way up to St. Francisville and spend the day exploring town. You can visit Afton Villa Gardens, hike Tunica Hills nearby, check out a few antique shops, or grab a meal at The Francis, Restaurant 1796 (at The Myrtles), or The St. Francisville Inn.
Misc. Activities Around Town:
Have anything to add? Comment below or email me suggestions at cameronboudreaux@redsticklife.com!